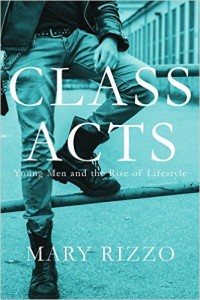 My book, Class Acts: Young Men and the Rise of Lifestyle, is available now to order from the University of Nevada Press or Amazon. I'm so excited to see this project come to fruition, thanks to my wonderful editor Matt Becker and peer reviewers. The book looks at what I call the rise of lifestyle in the postwar period, linking it to male style and marketing. When young middle-class men throughout this time period adopted the style and dress of their working-class peers it suggested that class identity was a matter of choice, disconnected from materiality. This appealed to marketers, who were in the midst of developing new methods of dividing up the American populace (just think of the giant computer that disrupts the creative department in Mad Men). They seized on the idea of marketing lifestyle, making class identity as easy to buy as a new shirt, as I show through case studies of the popularity of hip hop with young white men and poverty chic in the 1990s.
Other recent publications include "Can We Tie Unisex Fashion Trends to Gender Equality?" on The Conversation, "More than Fun and Games?: Play, Public Humanities and Engaged Democracy," published in the journal Public, and posts on the public history blog, History@Work. I've also been able to indulge in my love for food history with articles for the Encyclopedia of Greater Philadelphia. Ever wanted to know where hoagies got their name from or where scrapple comes from? Now you know.
If anyone wants to publish a book about the Insane Clown Posse by me and my colleague Whit Strub, check out our book proposal here. Magic magic ninja what.