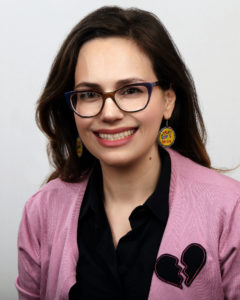 Welcome! Trained in American Studies, I bring an interdisciplinary perspective to my work in public history and the public humanities. Currently, I am an Assistant Professor of Professional Practice and Associate Director of Public & Digital Humanities Initiatives for the Program in American Studies and the History Department at Rutgers-Newark. I also consult with nonprofit history and cultural organizations, including the Pew Center for Arts and Heritage, the Tuckerton Seaport, and the NJ State Museum. You can see my CV here.
I come to this position after a decade of working in public history and the public humanities in New Jersey. What has motivated me over the past few years is helping small and medium-sized history, humanities, and cultural organizations build their capacity and professionalization so they can tell more inclusive stories that fully represent our communities. I've put that into practice through several projects, including the Public History Boot Camp series at MARCH, the Telling Untold Histories unconference. and the Queer Newark Oral History Project to document the history of the LGBT community in Newark.
My other area of expertise is creating community conversations on tough contemporary issues using a historical lens. This fall, I'm teaching a graduate course in American Studies called Public History and Mass Incarceration that is part of the Humanities Action Lab's Global Dialogues on Mass Incarceration project. At the New Jersey Council for the Humanities, I developed a series of public forums on environmental justice that included historians, philosophers, urban studies scholars, lawyers, and community members to examine the status of the environment in the Garden State. These forums grew into a series of community conversations held in libraries around the state.
Through these activities, I have one belief–that a critical understanding of the past helps everyone better understand the world we live in. Whether I'm creating a podcast on New Jersey food history, or writing a grant to fund literature discussions at libraries, or digging through archival boxes for an article, my goal is the same–to help make historical information and ways of thinking accessible to all.
I blog here, but also at History@Work, the National Council on Public History's group blog, I write critically about public history practice, with a particular interest in urban space, heritage, gender, and popular culture. As the blog's name suggests, the goal is to consider how history works in the world–a broad mandate that includes historic preservation, teaching of public history, and international public history as well. One of the pieces I'm most proud of is a three-part series on Philadelphia's Love Letter murals as a window into the role of art and tourism in contemporary discourse around cities as 'lovable' spaces. I also once blogged about Philadelphia's Reading Terminal Market at Eating/Reading but haven't had the time to keep up with it.
Feel free to contact me at mrizzonj@gmail.com or follow me on Twitter @rizzo_pubhist