About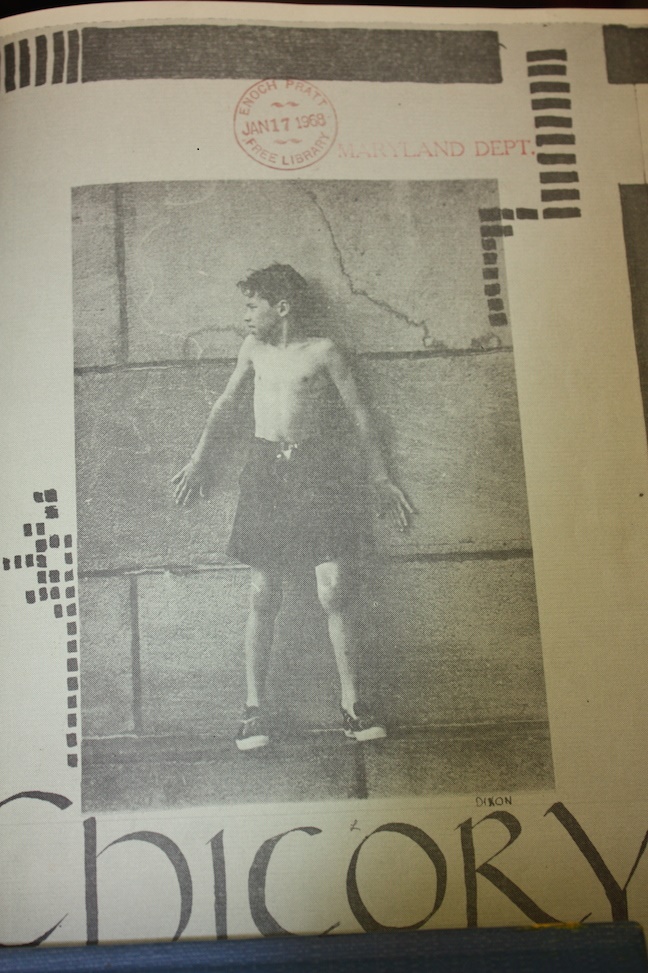 Chicory was a magazine of poetry, prose, street chatter, and art, published from 1966-1982 in Baltimore, MD. Funded initially with money from the War on Poverty through the Enoch Pratt Free Library, it continued thanks to the library's support for years after federal funding ended. In 1969, selections from Chicory were published as Chicory: Young Voices from the Black Ghetto edited by the first two editors of the magazine, Sam Cornish and Lucian Dixon. Forgotten today, Chicory, written by residents of the poorest neighborhoods of Baltimore, is an atlas of the thoughts, desires, politics, and concerns of people who are often left out of the historical narrative.
This collection is a pilot project intended to think through how to make the magazine Chicory available to the public. To read selections, click browse items on the left. You can also use the search to find items by keywords included in the titles or descriptions.
The physical magazine can be found at the Enoch Pratt Free Library. Images were taken by me at the library (in some cases, they are low quality).
Takedown Notice
If you are a rights holder and are concerned that you have found material on this website for which you have not granted permission (or is not covered by a copyright exception under US copyright laws), you may request the removal of the material from our site by submitting a notice, with the elements described below, to mrizzonj@gmail.com. Please include the following:
Identification of the material, including the name and URL;
Your contact information, including an email address and telephone number;
A statement that you are the owner, or authorized to act on behalf of the owner, of an exclusive right that is allegedly infringed and that you have a good-faith belief that use of the material in the manner complained of is not authorized by the copyright owner, its agent, or the law;
A statement that the information in the notification is accurate and made under penalty of perjury, and; and
Your physical or electronic signature.
Upon receiving a notice that includes the details listed above, we will remove the allegedly infringing material from public view while we assess the issues identified in your notice.
If you have questions about this site or this project, email Mary Rizzo at mrizzonj@gmail.com.